multi platinum producer / dj / Speaker & Creative Director
______wolffman_____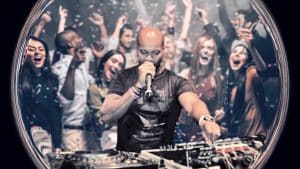 Wolffman is known for his irresistible and highly infectious productions.
His status as an acclaimed songwriter and producer is reflected by his resumé with more than 2000 releases for various artists in various genres including over 200 single hit records, several US Billboard Dance Top 20 songs and millions of streams.
On Wolffman's CV you will find hit records he produced and released with artists such as Snoop Dogg, Fat Man Scoop, Kevin Lyttle, Timati, Romanthony (Daft Punk), Conro, Rockwellers, Rod Temperton, Pitbull, D-Rashid, Plastik Funk, Ross & Iba, DeAnte, Linda Wagenmakers, Gordon, Replay, Georgina Verbaan, Freddy Moreira, Patexx, Mostaman, Baby Wally & Kevin Florez, D-Rashid, Gizmo, Dark Raver etc.
But Wolffman is more, besides being a producer and international DJ he is a successful entrepreneur, music publisher, artist manager, label owner, multi media strategist, marketer, creative director, digital artist, much requested speaker and event organizer.
Read more…